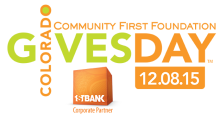 As I write this, I have just completed a donation to my favorite charity (Friends of Gueoul) through Colorado Gives. It took me about five minutes. What makes Colorado Gives special is its million-dollar incentive fund. All of the charities involved in Colorado Gives receive a piece of the incentive fund in proportion to the amount of money raised by donations they've received.
I indicated my donation should be in honor of Diane Wilson. She is the board member who took on the enormous task of interfacing with the vetting committee at Colorado Gives. She volunteered countless hours to gather the financial and other documentation about our organization that was required to pass the very stringent examination the Colorado Gives folks require. We passed! It was a gigantic honor to be accepted.
We have been working hard on our board to expand the funding opportunities in a multitude of directions. During my tenure as co-president, the greatest accomplishment has been the way that our organization has streamlined its fundraising efforts, moving from more labor-intensive models to receiving the same amount of money for much less work. Our admission to the Colorado Gives network is one fruit that has grown from the tree of our increasing efficiency and efficacy.
If you've been waiting for year-end to give, please wait no longer. This is your best chance to leverage your donation since the more you are able to give, the greater percentage of the incentive fund Friends of Gueoul will receive.
Time is running out! You can only schedule your donation now through December 8, 2015, after which the incentive closes for this year. The only way to take advantage of this wonderful program is online.
You will need to set up an account with Colorado Gives, which requires your first and last name, an email address, and a password. You also have to provide a billing address when making payment.
Please donate online here today: www.gueoul.org or on the Colorado Gives Website. Click the green button near the top of the page that says, "Donate Now through Colorado Gives" and you'll be redirected to a special part of the Colorado Gives site dedicated to Friends of Gueoul.