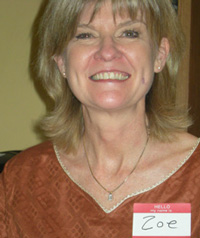 I remember Judy Beggs sitting in my styling chair at my Salon some 25 years ago, telling me she had joined the Peace Corps and she was going to Africa! Sénégal, Africa. Her life was changing from lawyer to social worker. I knew she would make a positive impact where ever she went. I just didn't know how big her impact was going to be.
When Judy returned from Sénégal and returned to our Salon, she told us stories of her time there and of the great need for educating women in that country, especially the very poorest of girls.
She cared so much that she started an organization called Friends of Guéoul. Our staff wanted to help. Our artisans organized a "Spa Night for Friends of Guéoul". We sold tickets for $45 and the participants received 'mini-services' from 12 different specialists, from hair or nails to acupuncture or massage. The artisans donated their services – all proceeds went to keep those girls in school.
It was a successful event from the get go! We transformed Zoe Salon and Spa into 'Sénégalese Night' with colorful fabrics draped around, Sénégalese food, drink and music. The clients relaxed while getting services and while learning about girls a world away. A number of Sénégalese Art pieces and cookbooks were for sale. Pictures of the actual girls that we help are on stands around the salon. We are proud of our fundraising efforts with each event. A Party night at the salon was always fun for all.
After 6 years of that model we expanded the event. We now have 2 weeks of awareness building for Friends of Guéoul during all regular business hours. The 2 weeks are always the week before Mother's Day and the week after.
We still transform the Salon with the colorful fabrics and pictures. We hand out brochures and educate our some 500 clients in that 2-week period. Our clients now expect our event every year and give even if they won't be in during those two weeks. Every year we raise enough to provide annual scholarships for 25 to 30 of our girls. In 2016, we'll have our ninth annual event and I predict client giving will go up even more!
Zoe Traphagan
Member, Board of Directors
Zoe Salon & Spa