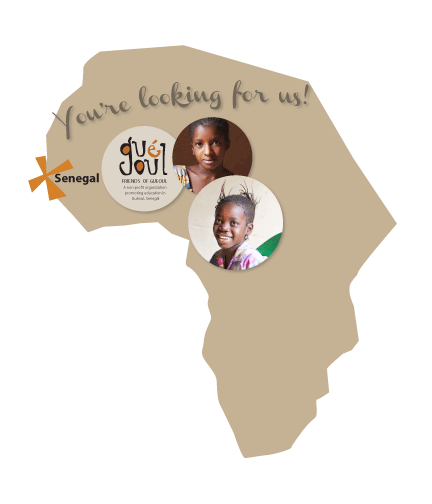 Come help Friends of Guéoul's gang of gung-ho volunteers to keep poor girls in school in Guéoul, Senegal.
Every skill you have is needed – marketing, education, grant writing, event creating, board-sitting, computer, e-learning, and envelope licking skills — whatever your skills, we and 145 dusty girls need your help!
Contact Judy Beggs:
303-788-1716gueoul@mindspring.com
Friends of Guéoul is a Denver-based 501(c)3 non-profit organization committed to keeping the poorest girls in School in Sénégal, West Africa.
Why Senegal? Some people ask, "Why Sénégal? I don't even know where that is! There are needs right here." That is a legitimate question. Our world, and especially the Islamic world, is torn by strife. Sénégal has been largely peaceful since its independence in 1960, including several democratic elections.
If Sénégal can become prosperous, it holds the potential to be a beacon of a democratic, peaceful, prosperous Islamic society – a much needed alternative to Al Qaeda and ISIS. Making a country such as Sénégal prosperous is like bringing a very large iron kettle to a boil. Friends of Guéoul is just one small candle under the kettle, but it is a durable, efficient, carefully-aimed candle.