Friends of Guéoul
Annual Report 2015/16
Keeping Girls in School Since 2005
Friends of Guéoul had an exciting year in 2015, and we have continued that momentum into 2016. In addition to our core scholarship program, we began work on several exciting new initiatives that will not only enhance the results of our core work, but provide additional opportunities for advancement for our students and the students of Guéoul generally. Some highlights:
In 2015-16, we had 116 girls on scholarship. These girls range from K- 12 and represent classes from every year since 2006. (The 2005 class have all finished their studies.) These girls now at the high school have the opportunity to attend university when they graduate next year.
Perhaps more exciting than this is our retention rate. The 116 girls we now support are from a total of 145 girls to whom we offered scholarships over the past 12 years. The first 2005 class of 13 students have finished their studies. Two students were married at age 12. Most of the other 14 either moved away from Guéoul or left school after they did not pass a test that allowed them to continue. Most of those who have left our program stayed in school significantly longer than otherwise they would have, which is itself empowering.
The scholarship program remains our core effort and is key to giving the girls the opportunity for advancement and economic success in their lives. However, we also have several other programs and initiatives in the works we are very excited about. Key highlights:
Noos Club. Noos (which means "fun" in the Wolof language) club has been our chief extracurricular enrichment activity for seven years. Elementary students meet on Monday, Wednesday and Friday afternoon, when they don't have classes at their public schools. Students engage in a variety of activities, including arts and crafts, traditional classes in French and math and other instruction, and other activities intended to keep them both stimulated and interested, and to improve their academic skills.
The Informatique. This is our computer classroom and Internet café. Its main purpose is to provide the opportunity for computer – based instruction. It also serves the wider community as an access point to the Internet, and through it the wider world. Community access is fee – based, so community access provides a revenue source that helps defray the cost of our other programs.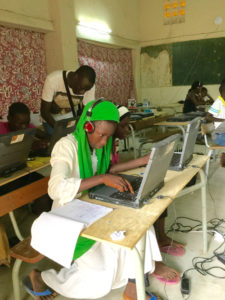 In 2015, volunteer Brent Gatewood teamed up with Informatique administrator Makhfou Diop to significantly upgrade our Internet infrastructure, resulting in significantly increased network speeds, which in turn facilitate our teaching activities.  Because this classroom is the best such facility in northern Senegal, we have been able to establish collaborations with Université Gaston Berger, one of the top universities in Senegal.
Université of Guéoul.  In 2013, Friends of Guéoul invited Université Gaston Berger (UGB) (Saint Louis, Sénégal) to build a Branch University in Guéoul. Building of the first phase began summer 2015, funded by $2,000,000 from the Republic of Senegal.
First classes are expected to commence in about a year. UGB has agreed that our girls will have the opportunity to attend this new university, and the first of them will be matriculating from high school just in time to take advantage of the new campus. We are tremendously excited by this opportunity, and look forward to attending graduation when they receive their university degree.
English as a Second Language Classes. Two years ago, the government of Senegal revamped their university entrance requirements, and imposed a requirement that all entering university students be English–proficient. This provided both a challenge and an opportunity for us. On the one hand, our prospective students were not English proficient. This was the challenge.  On the other hand, there were no publicly offered total immersion English classes available in all of Senegal. This, although it might seem like another challenge, was in fact the opportunity.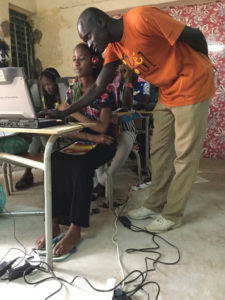 In collaboration with the University of Denver, we have developed an English as a second language program that we will be offering in Guéoul. Volunteer teachers from the United States have developed a teaching curriculum and computer software and other tools necessary to teach the classes. A DU intern from a Master's program will be traveling to Senegal later in July to teach local teachers how to conduct a full immersion English course.
Not only is this course an opportunity for our girls to obtain the necessary proficiency in English, but it is also an opportunity for other local students who aspire to attend university to obtain the same proficiency. And since, as with the Informatique, community participation is fee-based, it provides an additional revenue stream to support our core activities.
The expansion of this unique and innovative pilot project has been made possible by a significant anonymous donation as "seed money" for this 2016 project.
Peace Corps Sénégal has collaborated with us since 2009. A PCV was assigned to Guéoul to help open, organize and develop the Cyber Café/computer classroom. This year, the Country Director has offered PCVs the chance to attend the total immersion program to provide native speakers in the classroom.
Appointment of our Directeur Général. Our activities have become increasingly complex over the years, and the challenges of meeting that additional complexity have stretched the resources of our tireless staff. Early in 2016, we were fortunate to be able to hire Khoudosse Cisse as our Directeur Général. He has been on our governing board in Guéoul since it was formed 3 years ago. This summer, he will retire from his position as principal of a local high school. He brings to us broad expertise, and knowledge of local culture and conditions, as well as strong managerial skills. We are very excited to have him aboard to guide us during this growth period. The rest of our Guéoul staff remains in place and continues to do an excellent job for us. They are:
• Baye Thierno Ndiaye, Director of Education and enrichment;
• Hamet Sarr, Treasurer
• Cheikh Makhfou Diop Director of IT classroom and Internet facilities
• Daouda Ciss, Deputy Director of the Computer Classroom and internet facilities
Donation of Laptops by Excel Energy. Our computer classroom has over the years been equipped with a hodgepodge of laptops and desktops from a variety of sources. While these computers were critical to the success of our classroom and Internet café, they post ongoing challenges, partially based upon their age and nonuniformity, and also partially based upon the realities of using electrical equipment in a hot and dusty environment like Guéoul. In 2016, thanks to the efforts of Sam Waggoner, we were extraordinarily lucky to receive the donation of 80 laptop computers. Not only are all of these laptops the same make and model, but they are all hardened, field-grade computers, which means that they are rugged and durable in a way that far exceeds the average laptop. A hearty thank you to Excel and to Sam Waggoner for making this tremendous gift happen!
Finances. The rapid growth of our programs was made possible by significant funding, Once again, our generous donor community has stepped up consistently to support our expanded program offerings and new initiatives, with revenues increasing consistently over the past several years, and continuing into this year, notwithstanding the continued weak economy and uncertainty caused by this being an election year. Our donors, and the grant making organizations with whom we have relationships make everything we do possible. It's exciting to look at the consistent growth in our funding and anticipate the possibilities for the future.
Thanks to all of you, the true friends of Guéoul. You make all the things we do possible, and your help is vital to the girls of Guéoul.
John C. Montana
President
Friends of Gueoul
For the full version of our annual report, please contact Judy at gueoul@mindspring.com